Soap Opera Digest : Making a "Killon" by Mara Levinsky
Soap Opera Digest: You were buds before you started working together. How did your friendship start?
Robert Palmer Watkins: I think it's as simple as this: She was one of the people in the cat who said hello if she passed me in the hallway. And her boyfriend, Logan, is awesome, so we'd all hang out if we had a GH event or something.
Haley Erin: It started at The Montage, at an Emmy peer group thing. It was me, Rob, Logan and Brytni [Sarpy, Valerie]. Then we tried to get sushi but it was like a four-hour wait, so we just hung out ont he corner.
Watkins: And from there, we started hanging out with Brytni and Ryan [Paevey, Nathan] and Emme [Rylan, Lulu]. You do tend to hang out and become closest with the people you're in storyline with.
Erin: But I was mostly off in the Corinthos world.
Watkins: Yeah, but we were both new and in the same age group, so we just kind of found each other.
Erin: Yeah, we were like, "We're new, we don't know what we're doing, let's be friends."
Digest: When did you get the sense that your characters may be paired?
Erin: Brilliant Rob posted a picture of us before we had any scenes together and he wrote "#killon" and people really responded to it.
Watkins: People were like, "Oooh, new storyline!" And a few months later, we had our first scene. It made perfect sense, story-line-wise, like, "Why am I still pining for Lulu? And why are you still with Morgan?"
Erin: I mean, he only slept with my mom a few times!
Watkins: I think we have chemistry because we're good friends in real life. That first scene was a little flirty — it maybe wasn't even written that way, but if you're a guy and you have a scene with a girl who's around the same age, it's going to end up flirty; it's a freakin' soap opera! Frank [Valentini, executive producer] came down and said, "Okay, this is what we calla chemistry test, where we kind of run two characters into each other who haven't interacted that much before and see how they vibe." It went so well. Honestly, I haven't seen people react online to anything that I've done on GENERAL HOSPITAL the way they respond to my scenes with Kiki.
Erin: Same. I get a lot of, "I hated you before, but now I love you!" I'm like, "I'm still the same, but thanks for the pep talk."
Watkins: It's like they judge you on your storyline and who you're with, not you as an actor.
Erin: And they were not a fan of Morgan and Kiki.
Watkins: And there are certainly some people who did not like the idea of me break- (read more in the Soap Opera Digest Magazine).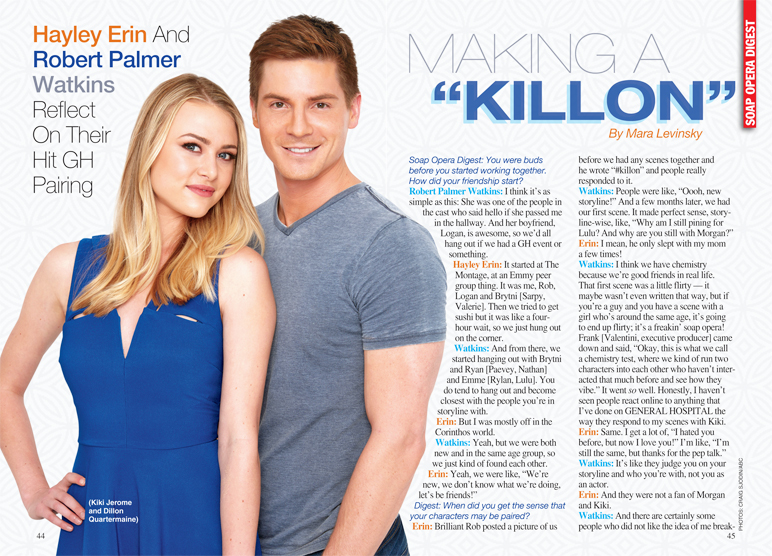 [ Large Version ]