Interview: Take Five
Robert Palmer Watkins (Dillon, GH)
What's your favorite thing to do on a day off?
"Hang out with friends, maybe go to the beach and go surfing."
Who would you like to share scenes with that you haven't?
"It'd be cool to work with William deVry [Julian] because we have the same manager. Or Nicolas [Bechtel, Spencer]. He's like an adult in a little body. He's hilarious!"
What's next on your to-do list?
"To get back into working on music. I love singing. That's actually what I started out studying in college, musical theater."
What's been your biggest dialogue flub so far?
"When Dillon was having breakfast with Tracy and Paul and he's grossed out by them having sex, I think I got in my head a little bit, and I kept messing up. I felt really bad but everyone said, 'It's okay, you're allowed a freebie every couple of months.'"
What's the last great concert you attended?
"The Zac Brown Band. So much fun!"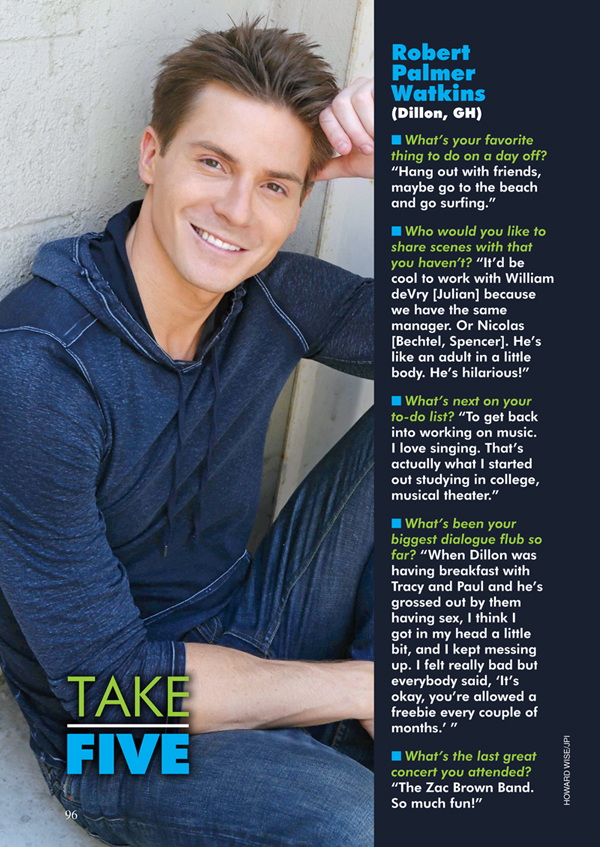 [ Large Version ]